New G3 Brochure – Now Available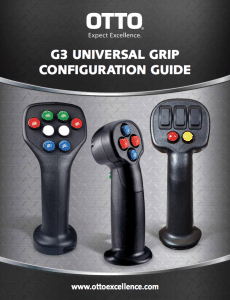 We are pleased to announce the availability of OTTO's new G3 Universal Grip Configuration Guide.
This 16 page guide presents the G3 grip product and configuration details necessary to help our customers determine the best G3 grip for their specific applications.
The new configuration guide covers the G3-A Small Universal Grip, the G3-B Medium Universal Grip and the G3-C Universal Contour Grip. Included is a part number configuration form, face-plate options, product specifications and a contact/quote request page.
Hard-copies are available by contacting customer service at info@ottoexcellence.com and requesting the G3 Universal Grip Guide, item #MKT2018-25. They are bundled in packages of 25.
You may also download a PDF version of the guide on our OTTO Controls literature page:
https://www.otto-controls.com/en/literature