Latest news from Power Dynamics, Inc.
Harsh Environment Series are perfect for rugged and outdoor applications with a variety of configurable options.
Power Dynamics also has the largest selection of Pin & Sleeve connectors.  Including waterproof, watertight versions rating from 20A to 100A.
Also one of the largest multi-function power entry modules and outlets.  On/off switches, fuses and more in a compact design up to 20 amps.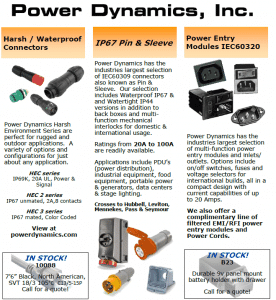 Contact your local Wesgarde branch to get more information!