Wesgarde delivers. Simple solutions for a difficult world.
Wesgarde supplies high quality electronic controls, switches, interconnects and power management products to OEMs building innovative solutions designed to withstand the harsh environmental conditions facing off-highway vehicles and machinery.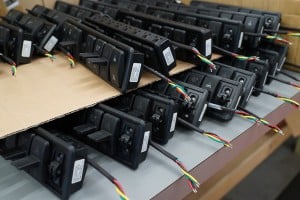 We are Wesgarde. Reliable service and support that has stood the test of time.
Original equipment manufacturers (OEMs) building the next generation of off-highway equipment trust Wesgarde to deliver.
From the latest innovations enabling vehicle-to-vehicle connectivity and communications, to customized electronic controls and power management modules, Wesgarde stocks the products that keep these rugged machines moving and their operators safe.
Switches, circuit breakers, relays, timers, solenoids, connectors, indicator lamps & LEDs, Fuses and accessories, battery management, power distribution
Top rated products, with pricing and service to match.
On/Off Highway Vehicles are often dirty, dusty, harsh environments where only the toughest equipment can survive. As a long-time conduit between many of the leading electrical component manufacturers (Hella, Otto, SurePower, Carling) and the off-highway OEM community, Wesgarde is proud to be in the unique position to not only influence, but also help engineer product, material and assembly innovations on both ends of the supply chain.
Wesgarde's team of product specialists FAE's and experienced sales professionals  have helped countless customers to either retool or reengineer for a better solution. We work with our supplier partners to create new innovative products.
Serving thousands of customers across the entire United States, Wesgarde is also the leading channel partner for many of the brands we distribute.
How do our customers benefit from all this collaboration? Simple. Wesgarde can deliver better solutions today while also helping our suppliers to continuously improve the products of tomorrow.
Tried. Tested and guaranteed to perform.
Looking for products that can stand up to the challenges of performing in some of the most hostile environments on earth? Then look to Wesgarde to deliver – the products, pricing and exceptional customer service before, during and after the sale.
Certified solutions designed to meet the most stringent quality and performance criteria, including IP66, UL1500, ISO8846, UL, CUL, CSA, TUV, and CE.
To learn more, and experience the Wesgarde Difference. Contact your local Wesgarde office today!